JOIN mon voyage in AUGUST 2022 for an art-inspired cruise on the seine
trip centerpiece:

"impressions of the seine and paris"

on Amawaterways with optional land extension package before and after the cruise
your splendid seine cruise
Imagine yourself in some of the most gorgeous scenery of Normandy, on the top deck of a small ship holding only about 150 passengers, glass of wine in hand. Tonight you'll dine at the Chef's Table, because this is the first cruise line inducted into the famed international gastronomic society La Chaîne des Rôtisseurs. Lover of Impressionism? Tomorrow, Monet's house and gardens at Giverny will being his iconic paintings to life. Villages across Normandy have been immortalized on canvas by artists from Turner to Sisley. Your beautiful floating boutique hotel awaits–and heaven knows you've waited long enough to see Paris again.
Practically everything is included on the cruise! AmaWaterways offers an outstanding luxury river cruise experience, with inclusions from top to bottom. Do you enjoy more active pursuits? Gotcha covered, with bicycle excursions and wellness programs. More leisurely pace? Late sleeper? No sweat. Whatever your heart (or feet) might desire, you will find something to suit you with a wide range of included daily options for both the morning and afternoon. Special diet? No problem. Adult beverages? Wine and beer at every meal (even bubbly at breakfast!), plus a daily "Sip and Sail" cocktail hour. Please note as well that all Ama staterooms are outside cabins with independent climate control and fresh air circulation. For more about the cruise portion of the trip, click
here
.
pre-cruise element: normandy in art history, past and present
After arrival at Charles de Gaulle airport, we will transfer to Honfleur for several pre-cruise days spent exploring this beautiful area's role in art history. We'll seek to understand (and perhaps capture?) the inspiration enjoyed by so many artists over the past two hundred years. The rich culture and scenery of the Norman coast has been evoked by the great painters of previous eras, from seaside resorts like Deavuille and Trouville to the harbor of Honfleur. But this sense of wonder is alive and well, and we'll also visit galleries featuring local artists of today. Spending some time in Honfleur in advance will free us up to enjoy the full day D-Day Beaches excursion offered with our cruise.
post-cruise art dive in paris
Still thirsty for more art? Paris serves up an endless feast. We will visit the important Impressionist holdings of the Musée d'Orsay and the Musée Marmottan Monet. But we won't be confined to masterpieces of the past; the most incredible addition to the Paris art scene in recent years may be the Atelier des Lumières, one of the first digital art spaces in the world, and the example against which all others must measure themselves. Discover, too, the unique creative space at 59 Rivoli, a former artist squat in a Haussmann-era building, now owned by the city and filled with thirty studios and thriving creators. We can also make a day trip to the elegant Chateau de Chantilly, home of the most important painting collection in France aside from the Louvre. Last but not least, a special outing to the studio of haute couture textile artist Tzuri Gueta.
AmaDante cruise staterooms range from $3509 to $6308 per person (double occupancy, price valid through 9/30/21). The seven-night land package is $3395 per person (double occupancy).
watch our presentation on this fabulous french fortnight: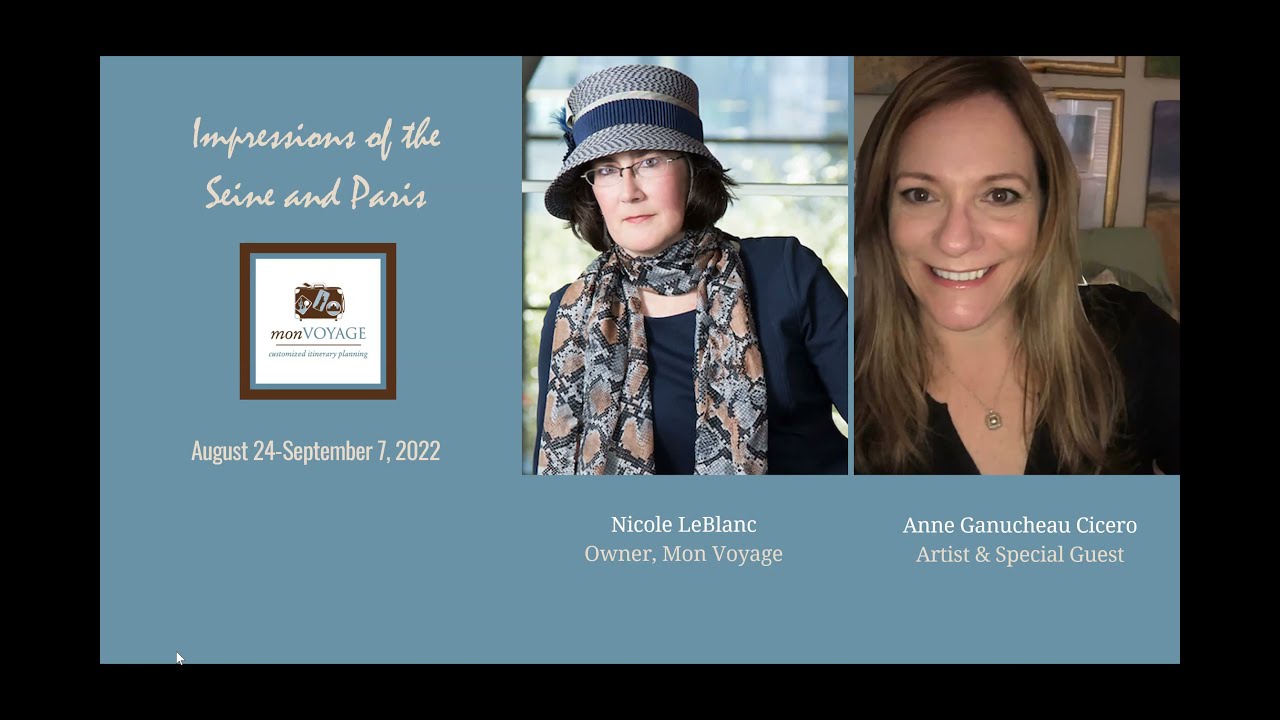 Video can't be displayed
This video is not available.
special mon voyage co-host: louisiana artist anne cicero
The rich cultural heritage of growing up in New Orleans and an artistic family encouraged Anne to pursue her interests in Art, Interior Design, Fashion, and Music at a very young age. Anne received a Bachelor of Fine Arts degree from Louisiana State University and continued Drawing, Painting, Graphic and Interior Design classes at NOAFA, Delgado Community College and the Art Institute online. Along with Painting and teaching, Anne has also enjoyed a diverse and prolific career working as a Graphic Designer, Illustrator, Costume Buyer and Stylist in print advertising and feature film production.
Divergent thinking and a strong passion for vibrant color, line, pattern, texture, composition and design can be seen in her mixed media paintings at galleries, corporate, and private collections throughout Louisiana and the Gulf Coast. During the trip, Anne will provide historic and artistic context for the art we will be seeing, and may also lead an optional painting workshop for participants For more information on Anne Cicero's artwork click
here.